The real life Costa Rica website
This is where the money is
---
General economic data:
CRC
US $
Gross National Product (2001)
5340130.3 (millions)
15.7 (billions)
GNP per capita
1325109.2
4045.3
Annual inflation rate (2000)
10.2%
Predominant laboral sectors (2000): Community/social services, commerce, agriculture, and manufacture.
Nature of occupation by sectors (2000): Private @ 81.3%, Public @ 13.4%, International institutions @ 0.11%.
Unemployment rate (2000): 5.2%.
Underemployment rate (2000): 7.3%
---
Official currency:
Costa Rica's official currency is the costarrican colon (CRC). Currently denominations are available both in printed note and metal coin form. Metal coins span the range 5 to 100 colones, while bills manage the ranges from 500 to 10000 colones.
The officially accepted foreign currency is the US Dollar, and any standard bank will perform currency exchange. Exchange rate varies daily by about 0.10 colones, and is set by the Central Bank of Costa Rica. The official exchange rate can be found in local newspapers and on the websites of bank offices.
Other currencies can be exchanged, depending on the bank or exchange house used. However if you're unsure, travel with US dollars. US dollars are also accepted by formal commerce at the current exchange rate. There is no applied law requiring the use of one or the other for commercial purposes.
Banks:
Public banking was the norm up until the end of the 80s, when banking was reformed to allow checking account handling by privately owned banks. Currently both private and public banks exist. Banks are authorized by the Superintendence of Finantial Institutions (SUGEF) in order to provide public services. The list of oficially authorized banks and finantial institutions can be found at http://www.sugef.fi.cr.

Credit cards:

Visa and master card are widely accepted both by commerce and by ATM networks. American express is also accepted by many places. The predominant credit card network is run by Credomatic, who is locally affiliated with the Bank of San Jose. Local offices for Citibank and other foreign banking institutions were also opened recently.

Forum, located in Santa Ana, is one of Costa Rica's newest financial office centers.
Another large credit card network exists that is run by a group of state and private banks, seeking I suppose to compete with Credomatic for market share. That network handles the same cards (MC/Visa), but has a different ATM network known as ATH (Credomatic's is known as Red Total). Several banks also offer proprietary ATMs at their offices.
Before using one network or the other, check with your bank for group affiliations. There may be an associated charge for cross network operations, for example if you obtain cash from an ATH ATM and your card belongs to the Total network.
---
Employment and income:
Employment exists and is constantly growing with the rise of new industries and foreign investment. Unemployment rate, which is around 5.2%, is much lower than in many other latin american countries.
Costa Rica's production was mainly related to agriculture in past decades, coffee and bananas being primary exports. With time, agriculture was overtaken by tourism, until tourism grew to be the number one source of income in the country.

Intel's A6/T6 plant seen from the air
In the past 10 years or so, tourism has been overtaken by a new source of income which is manufacturing, primarily in the high technology areas. Manufacturing in general has always existed in Costa Rica, thanks to several free zones which allow industries to operate with special benefits and options, but has grown exponentially in the 1990s. Intel's A6/T6 plant has probably been the single largest foreign investment to occur in Costa Rica in the past decade: so large that Costa Rica was forced to create an alternate development model when the plant opened, due to the huge increase in GNP the plant generated.
Intel has been followed by investments by many other companies, several in the electronics and technology fields. It's calculated that the manufacturing sector currently absorbs most of the graduating population in the electric and electronics fields from state universities.
Foreign call service centers are also a source of income for many costarricans. Free zones house a number of customer service centers for companies like Acer, Microsoft and others. Outside free zones the customer service market has been taken by sportsbook agencies and gambling services. Gambling is regulated in Costa Rica, however legal loopholes exist that allow phone and internet gambling to operate as a regular customer service center without much restriction.
English speaking visitors will find that obtaining a job is not difficult in Costa Rica in the customer service area, as well as in the tourism area. Many times temporary visitors find work as english teachers at many of the local academies.
Work permits are required for visitors wishing to obtain jobs locally, and you should consult with your local costarrican embassy if you're planning on working in Costa Rica. You should also know that the exercise in many areas is regulated in Costa Rica by professional colleges. Areas such as engineering, medicine, education and others have professional colleges which require affiliation and a certain period to verify foreign credentials.
---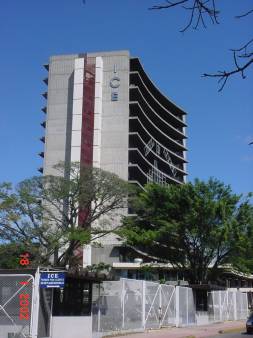 The Costarrican Institute of Electricity (ICE), a state owned monopoly, has provided basic telecommunications and electric infrastructure for Costa Rica during the past 50 years. However it has received heat from many sectors in the past few years due to its inefficient, slow and bureaucratic management of basic consumer services.
State monopoly:

Costa Rica's economy has many sectors which are owned by the State and in which no private firms may operate. These sectors include:
Telecommunications, which is owned by the Costarrican Institute of Electricity (ICE).
Electricity, also owned by the ICE, although contracts with private generating firms have been established. Private firms may not, however, operate individually from the ICE.
Insurance, owned by the National Insurance Institute (INS).
Alcohol production, reserved for the National Liquor Factory (FANAL). There is no restriction, however, on the availability of foreign alcoholic products.
Oil and fossil fuel import, owned by the Costarrican Petroleum Refinery (RECOPE)
Lottery and random games, owned by the Social Protection Group (JPS).
No privately held firms may legally operate any of these fields without prior authorization. Firms which are found in violation are normally shut down and their equipment seized.
State monopoly has received severe criticism in the past years due to the inmense restrictions it imposes on development of the markets where it operates. Certain attempts have been made to allow private participation in these sectors, with limited success.
You may need to consider the state monopoly situation depending on what you're planning to do in Costa Rica. If, for example, you wish to import a vehicle, you must insure it locally with the INS. If you wish to obtain a cellular or fixed phone service, it must be done with the ICE despite presence of AT&T and other private operator offices.
---
Back to CRnet's main page
---
Copyright (c) 2001 by Steve. All usual legal stuff applies. URL: http://crnet.tripod.com
---

Email Steve

This is not the website of CRNET, the National Academy of Investigation (duh). If you're looking for them, try www.crnet.cr